Who are we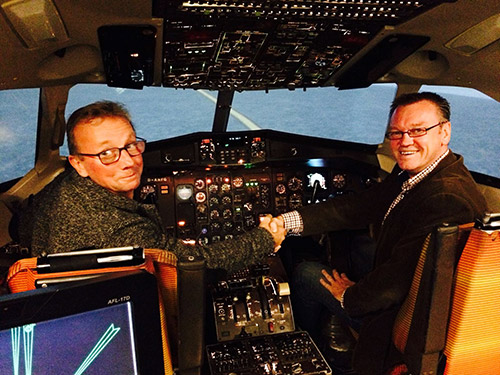 WIM Facility Services is an independent facility consultancy bureau. The firm, situated in IJmuiden, was founded in 2014 by Marcel Frederiks and Robin Ernest. Marcel and Robin, both have acquired an impressive amount of experience, knowledge and skill in their many years in the field previous to starting their own firm together. They started their firm with a desire to share the knowledge and wisdom they have acquired with other people. They abide by the principle of 'Weten is Meten' (WIM) which roughly translates to: 'if you want to know something, you have to measure it'. The founders gladly work throughout the country in order to provide companies with the independent advice they need regarding facility services.
Our Vision
WIM Facility Services believes in the importance of creating a pleasant, clean and safe working environment by providing open and honest advice. We counsel and communicate with our customers and suppliers in a respectful way and we strongly believe that people as well as organizations are better together. Good communication is the key to strong and great cooperation and will ensure sound advice and well-considered advice from our part.
Our Mission
We strive to become the most reliable and most efficient consultancy bureau in the field and we wish to establish that through our exceptional expertise and skill.
Marcel Fredriks. I am a broadly oriented and flexible goalgetter and consultant within the facility services. Thanks to my years of experience in the field, I have learned how I can deliver the best results and how i can lift up and inspire others but also myself. I would describe my working style as a consultant as that of a leader who serves, I always try to ignite a spark in others that will make them realize their potential. Together we will achieve the goals we set out. My communicative skills enable me to have a good understanding of that which the client wants as well as the supplier, honesty and sincerity are key parts to this process.
'In for a penny, in for a pound' is my motto, it describes the great sense of responsibility I have and my drive to find suitable solutions for problems I come across along the road. Once I have a goal, I will do everything in my power to reach it.
Robin Ernest. I am a driven, committed and honest individual, who has a real passion for the job. Thanks to our firm, WIM, I now have the possibility to do what I absolutely love to do on a daily basis. There aren't an awful lot of people out there who can say they love their job, but fortunately I can. The enthusiasm I have for the field= is something I try to share with others by using my communicative skills. My empathy and comprehensive skills give me the ability to easily get along with others and to find the best personal approach to make someone perform at their best. This also show how flexible I am, which enables me to achieve my goal in every possible situation.
Like Marcel I have a great sense of responsibility, this will make me set out to reach the best endgoal possible. Just like our vision states I work towards creating a pleasant, clean and safe working environment which I shall provide by offering open and honest advice.